Hey Big Mouth

Introduction Eph. 4:29-32

There is a program called The View that is broadcast by ABC that has brought much controversy. Some call it freedom of speech while others call it trash and unpatriotic. Rosie O'Donnell attacks Christianity, defends lesbianism and attacks our government with destroying the world trade center. Is this type of conduct what God wants us to be involved in or is Rosie the Devil's spokesman?

1. The Tongue (Eph 4:29-32)

· We are instructed in the Word of God to speak edifying words

· Yes this is the will of God for all to include people like Rosie, and any other people that breathes

· The words we speak tells allot about our attitudes, deals with anger and other emotions

· Be kind, freedom of speech is not a for hatred of a provision for sin, this is against Christ

· (2Tim 3:1-8) The time has now come where we defend ungodliness rather than obedience

· The View - feeds this mentality to silly women, wanting to learn but not the gospel (vs.7)

I. They accept sin, Rosie lesbian lifestyle, it's not OK it is ungodly

ii. She attacks Christianity as being worst that Radical Muslins religion, yes to her lifestyle

iii. We have a women that is a sinner and preaches a demonic gospel to justify her life

iv. Still not good enough Rosie you are a sinner and your belief are against God

v. But what about freedom of speech? It's your right but not the truth

vi. What are we to listen too, God or Rosie and The View

· The issue is what you believe not freedom of speech * your lifestyle,

· (Phil 2:1-11) We must take of the form of a servant, to help humanity

· Truth and not lies help people, living right and not sin

· (James 3:4-18) This brings us back to freedom of speech, the tongue has much power

· Rosie's view will dam souls to hell it is more than freedom of speech

· (Prov 8:21 - 15:2 - 12:18-22- 10:20-23) Concerning your speech

· We must decide what will benefit our souls and look to the eternal

2. Wisdom (James 1:5)

· When speaking of the tongue we need to fill it with God's wisdom

· Let's face it we talk but God wants us to speak edification and not foolishness

· This is the trademark of believers we talk about Jesus Christ all the time

· The reason Rosie and her Hollywood friends hate the gospel

· It's funny how the speak of the higher power but don't call him by name Jesus

· (1 Cor 1:18-21) To the world the Gospel is foolish but to us it's salvation

· We are not of this world but of God's kingdom so our laws are different from this world

· Rosie can't understand this to her sin is a necessity, she will fight for it and die in her sins

· This is the danger of lacking Godly wisdom, it will effect your destiny, heaven or hell

· The View, we must have is that of what does God want (Matt 24:35)

· It would be a wise thing for you to trust in God rather than in mankind or Rosie

· (Rom 3:1-18) Here is wisdom and explains much of we as believers understand

3. Your lifestyle and words (Mark 7:6-23)

· What comes out of your mouth, in Rosie's it's hating God and his commandments

i. We have to accept Rosie's view because she believes a lie?

· Are we to live by man's philosophies and ignore the word of God ?

i. The world preaches tolerance but went it comes to God you can't speak it, why?

ii. It is a safe thing to say that this world issues are those the defy God's Kingdom

iii. It's Ok to break God's rules because the world agrees that it's your choice

· The media, stars, politicians, comedians, teachers sinners in general all feel this way

· Within the tongue are the issue of life and death (Prov:4:23)

· What comes out of the mouth are issues of the heart and what you really feel

· Rosie is hate and anger, it is also seen in her life depression and conflict with others

· She attacks the country, faith and speaks as she is the authority in the world

· Rosie needs to repent it is God who is the creator not Rosie

· The reason people agree with her it's because it justifies their sad state of denial

· Ignoring issues do not make them right and believing their lie will not save you

· We need to understand this because your soul is in the balance, who do you trust?

_____________________________________________________________________
Eph 4:29-32
29 Let no corrupt communication proceed out of your mouth, but that which is good to the use of edifying, that it may minister grace unto the hearers.
30 And grieve not the holy Spirit of God, whereby ye are sealed unto the day of redemption.
31 Let all bitterness, and wrath, and anger, and clamour, and evil speaking, be put away from you, with all malice:
32 And be ye kind one to another, tenderhearted, forgiving one another, even as God for Christ's sake hath forgiven you.
KJV
2 Tim 3:1-8
3:1 This know also, that in the last days perilous times shall come.
2 For men shall be lovers of their own selves, covetous, boasters, proud, blasphemers, disobedient to parents, unthankful, unholy,
3 Without natural affection, trucebreakers, false accusers, incontinent, fierce, despisers of those that are good,
4 Traitors, heady, highminded, lovers of pleasures more than lovers of God;
5 Having a form of godliness, but denying the power thereof: from such turn away.
6 For of this sort are they which creep into houses, and lead captive silly women laden with sins, led away with divers lusts,
7 Ever learning, and never able to come to the knowledge of the truth.
8 Now as Jannes and Jambres withstood Moses, so do these also resist the truth: men of corrupt minds, reprobate concerning the faith.
KJV

Phil 2:1-11
2:1 If there be therefore any consolation in Christ, if any comfort of love, if any fellowship of the Spirit, if any bowels and mercies,
2 Fulfil ye my joy, that ye be likeminded, having the same love, being of one accord, of one mind.
3 Let nothing be done through strife or vainglory; but in lowliness of mind let each esteem other better than themselves.
4 Look not every man on his own things, but every man also on the things of others.
5 Let this mind be in you, which was also in Christ Jesus:
6 Who, being in the form of God, thought it not robbery to be equal with God:
7 But made himself of no reputation, and took upon him the form of a servant, and was made in the likeness of men:
8 And being found in fashion as a man, he humbled himself, and became obedient unto death, even the death of the cross.
9 Wherefore God also hath highly exalted him, and given him a name which is above every name:
10 That at the name of Jesus every knee should bow, of things in heaven, and things in earth, and things under the earth;
11 And that every tongue should confess that Jesus Christ is Lord, to the glory of God the Father.
KJV


James 3:4-18
4 Behold also the ships, which though they be so great, and are driven of fierce winds, yet are they turned about with a very small helm, whithersoever the governor listeth.
5 Even so the tongue is a little member, and boasteth great things. Behold, how great a matter a little fire kindleth!
6 And the tongue is a fire, a world of iniquity: so is the tongue among our members, that it defileth the whole body, and setteth on fire the course of nature; and it is set on fire of hell.
7 For every kind of beasts, and of birds, and of serpents, and of things in the sea, is tamed, and hath been tamed of mankind:
8 But the tongue can no man tame; it is an unruly evil, full of deadly poison.
9 Therewith bless we God, even the Father; and therewith curse we men, which are made after the similitude of God.
10 Out of the same mouth proceedeth blessing and cursing. My brethren, these things ought not so to be.
11 Doth a fountain send forth at the same place sweet water and bitter?
12 Can the fig tree, my brethren, bear olive berries? either a vine, figs? so can no fountain both yield salt water and fresh.
13 Who is a wise man and endued with knowledge among you? let him shew out of a good conversation his works with meekness of wisdom.
14 But if ye have bitter envying and strife in your hearts, glory not, and lie not against the truth.
15 This wisdom descendeth not from above, but is earthly, sensual, devilish.
16 For where envying and strife is, there is confusion and every evil work.
17 But the wisdom that is from above is first pure, then peaceable, gentle, and easy to be intreated, full of mercy and good fruits, without partiality, and without hypocrisy.
18 And the fruit of righteousness is sown in peace of them that make peace.
KJV
Prov 18:21
21 Death and life are in the power of the tongue: and they that love it shall eat the fruit thereof.
KJV
Prov 15:2
2 The tongue of the wise useth knowledge aright: but the mouth of fools poureth out foolishness
KJV
Prov 12:18-22
18 There is that speaketh like the piercings of a sword: but the tongue of the wise is health.
19 The lip of truth shall be established for ever: but a lying tongue is but for a moment.
20 Deceit is in the heart of them that imagine evil: but to the counsellors of peace is joy.
21 There shall no evil happen to the just: but the wicked shall be filled with mischief.
22 Lying lips are abomination to the LORD: but they that deal truly are his delight.
KJV
Prov 10:20-23
20 The tongue of the just is as choice silver: the heart of the wicked is little worth.
21 The lips of the righteous feed many: but fools die for want of wisdom.
22 The blessing of the LORD, it maketh rich, and he addeth no sorrow with it.
23 It is as sport to a fool to do mischief: but a man of understanding hath wisdom.
KJV

James 1:5
5 If any of you lack wisdom, let him ask of God, that giveth to all men liberally, and upbraideth not; and it shall be given him
KJV

1 Cor 1:18-21
18 For the preaching of the cross is to them that perish foolishness; but unto us which are saved it is the power of God.
19 For it is written, I will destroy the wisdom of the wise, and will bring to nothing the understanding of the prudent.
20 Where is the wise? where is the scribe? where is the disputer of this world? hath not God made foolish the wisdom of this world?
21 For after that in the wisdom of God the world by wisdom knew not God, it pleased God by the foolishness of preaching to save them that believe.
KJV
Matt 24:35
35 Heaven and earth shall pass away, but my words shall not pass away.
KJV

Rom 3:1-18
3:1 What advantage then hath the Jew? or what profit is there of circumcision?
2 Much every way: chiefly, because that unto them were committed the oracles of God.
3 For what if some did not believe? shall their unbelief make the faith of God without effect?
4 God forbid: yea, let God be true, but every man a liar; as it is written, That thou mightest be justified in thy sayings, and mightest overcome when thou art judged.
5 But if our unrighteousness commend the righteousness of God, what shall we say? Is God unrighteous who taketh vengeance? (I speak as a man)
6 God forbid: for then how shall God judge the world?
7 For if the truth of God hath more abounded through my lie unto his glory; why yet am I also judged as a sinner?
8 And not rather, (as we be slanderously reported, and as some affirm that we say,) Let us do evil, that good may come? whose damnation is just.
9 What then? are we better than they? No, in no wise: for we have before proved both Jews and Gentiles, that they are all under sin;
10 As it is written, There is none righteous, no, not one:
11 There is none that understandeth, there is none that seeketh after God.
12 They are all gone out of the way, they are together become unprofitable; there is none that doeth good, no, not one.
13 Their throat is an open sepulchre; with their tongues they have used deceit; the poison of asps is under their lips:
14 Whose mouth is full of cursing and bitterness:
15 Their feet are swift to shed blood:
16 Destruction and misery are in their ways:
17 And the way of peace have they not known:
18 There is no fear of God before their eyes.
KJV

Mark 7:6-23
6 He answered and said unto them, Well hath Esaias prophesied of you hypocrites, as it is written, This people honoureth me with their lips, but their heart is far from me.
7 Howbeit in vain do they worship me, teaching for doctrines the commandments of men.
8 For laying aside the commandment of God, ye hold the tradition of men, as the washing of pots and cups: and many other such like things ye do.
9 And he said unto them, Full well ye reject the commandment of God, that ye may keep your own tradition.
10 For Moses said, Honour thy father and thy mother; and, Whoso curseth father or mother, let him die the death:
11 But ye say, If a man shall say to his father or mother, It is Corban, that is to say, a gift, by whatsoever thou mightest be profited by me; he shall be free.
12 And ye suffer him no more to do ought for his father or his mother;
13 Making the word of God of none effect through your tradition, which ye have delivered: and many such like things do ye.
14 And when he had called all the people unto him, he said unto them, Hearken unto me every one of you, and understand:
15 There is nothing from without a man, that entering into him can defile him: but the things which come out of him, those are they that defile the man.
16 If any man have ears to hear, let him hear.
17 And when he was entered into the house from the people, his disciples asked him concerning the parable.
18 And he saith unto them, Are ye so without understanding also? Do ye not perceive, that whatsoever thing from without entereth into the man, it cannot defile him;
19 Because it entereth not into his heart, but into the belly, and goeth out into the draught, purging all meats?
20 And he said, That which cometh out of the man, that defileth the man.
21 For from within, out of the heart of men, proceed evil thoughts, adulteries, fornications, murders,
22 Thefts, covetousness, wickedness, deceit, lasciviousness, an evil eye, blasphemy, pride, foolishness:
23 All these evil things come from within, and defile the man.
KJV

Prov 4:23
23 Keep thy heart with all diligence; for out of it are the issues of life.
KJV
___________________________________________________________________________________
http://abc.go.com/daytime/theview/
Rosie Says She Hangs Upside Down for Depression
Photo by: Jackson Lee / AdMedia / Sipa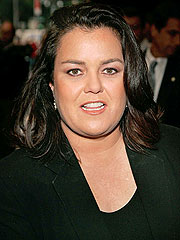 Rosie O'Donnell says she fights depression by taking medication, doing yoga – and hanging upside down for up to half an hour a day.

O'Donnell, 44, says she first began treatment for depression after the Columbine massacre in 1999. "I couldn't stop crying," she says in an episode of The View set to air Friday, the Associated Press reports. "I stayed in my room. The lights were off. I couldn't get out of bed, and that's when I started taking medication."

It's also when, she says, she started yoga and "inversion therapy," in which she hangs upside down by a swing for 15 to 30 minutes a day – something she demonstrates on Friday's program.

O'Donnell also says she suffers from seasonal affective disorder, often called SAD, which causes her to feel depressed during the fall and winter. "Like in The Wizard of Oz, the color goes out," she says. "That is what happens in depression. Everything gets gray."

No one should fear the stigma of taking medication for depression, she says: "It saved my life."

O'Donnell has talked about her battle with depression before. On Sept. 5, her View debut, she assured her costars she'd be easy to work with, saying, "I'm taking my medicines, so everything's going to be fine."

And in 2001, she wrote in her now-defunct Rosie magazine that she had struggled with depression her entire life. "I am one of the haunted," she wrote, saying she only freed herself of the illness's grip two years earlier, at age 37, with the help of antidepressants.
Barbara Calls Donald 'That Poor, Pathetic Man'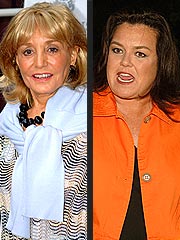 On Wednesday's The View, Barbara Walters and Rosie O'Donnell quickly dismissed the issue of Donald Trump.

"Well," O'Donnell announced at the top of the show, "he's at it again."

"That poor, pathetic man," said Walters.

"Yes!" O'Donnell said, reaching across the table to high-five Walters and saying, "Sister-friend, give me a high sign" – as the audience roared its approval.

The joint appearance of the two women on the show came a day after Trump wrote an open letter to O'Donnell saying that Walters had lied to Rosie and to him. Trump released his letter to O'Donnell via the TV show The Insider.

On Wednesday's View, Walters said, "He just can't let go," as O'Donnell joked, "That man is obsessed with me. And, I'm happy to say, his show tanked."

Ratings for the premiere episode of Trump's The Apprentice on Sunday night averaged 9.1 million viewers.

In his letter, Trump said Walters called him while on vacation in an attempt to apologize for O'Donnell's on-air comments about him. Trump claimed Walters said, "Donald, never get in the mud with pigs" and "don't worry, she won't be here for long."

On The View last week, Walters told the audience she never told Trump she regretted hiring O'Donnell.

The New York Post's Page Six reported on Tuesday that the cohosts clashed backstage on Monday over Walters's handling of the O'Donnell-Trump feud. A spokesperson for the show told PEOPLE it was "only a squabble. It's business as usual. Everyone has moved on."

In her Web blog Tuesday night, a fan named Patty wrote to ask O'Donnell: "we all want to know Rosie did you really have words with BW before the show and tell her you were mad she never called u in 10 days?"

Replied Rosie: "i did/but i never cursed/and it was 9 days."

And in response to a fan named Shana's question asking if she called Walters a liar, O'Donnell said: "i never called her a liar/i asked how she could call HIM a friend."